Background
There are many methamphetamine (P) contaminated houses, buildings and vehicles throughout New Zealand. Methamphetamine is a problematic contaminant in buildings as contamination is generated from its use and production and can pose a risk to inhabitants' health.
Forensic & Industrial Science Ltd has been testing for methamphetamine contamination and attending suspected clandestine methamphetamine laboratories since 2004.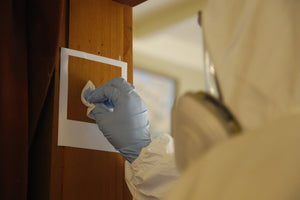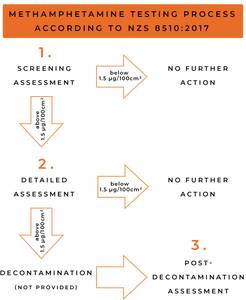 Meth Testing Procedure
There are typically a few stages involved in testing for methamphetamine contamination.
The first stage is the screening assessment which determines whether methamphetamine residue is present or absent within a property. Screening assessments are often quick and require fewer samples to be collected, making this type of sampling relatively cheap.
If a screening assessment suggests that there could be at least one surface above the limit of 1.5 µg/100cm2* (micrograms per 100 square centimetres), a detailed assessment will need to be conducted. These assessments require a specified number of samples to be collected in order to accurately assess the extent of the contamination.
If a detailed assessment yields any results above 1.5 µg/100cm2*, decontamination by professional contractors will need to be conducted to bring contamination below the Standard level. After this decontamination is finished, a post-decontamination assessment will need to be undertaken in order to ensure that all surfaces are below 1.5 µg/100cm2*.
*Please note that the level of 1.5 µg/100cm2 is for high-use areas. Limited-use areas use the standard level of 3.8 µg/100cm2.
Analysis & Reporting
All of the samples we collect are analysed in our in-house laboratory.
By operating our own laboratory, we can ensure faster turnaround times and cheaper prices for our clients. We are able to guarantee that our clients receive upmost top quality throughout the testing and analytical process.
Our reports include our methamphetamine results, our sampling and analysis methodology, and decontamination advice (where applicable).